If you only have one level of membership you're missing a trick.  Our recent work for BFI found that creating multiple memberships increases membership sales.
Researching Price
Ask the question: "What would you be willing to pay for membership to X?" and you'll probably get the answer: "It depends."  It depends on what the benefits are; how much you're likely to use it; what your relationship is with the organisation and what else you can buy for your money.  What's more, customers have different perceptions of value and different motivations for purchasing so a "one-size fits all" approach to membership will mean lower sales.
To get a more accurate answer to the question, Baker Richards uses a technique called conjoint analysis.  This is a way of determining people's preferences by looking at the trade-offs they make.  If you ask enough people, enough questions about enough different membership options you can build a good picture of what people value.  And most importantly, you can put a price on it.  You can also segment the market based on responses to understand the different motivations driving people's decisions and model the impact that offering different membership would have for different segments.
The BFI Project
In 2015, the British Film Institute (BFI), a charitable organisation which promotes and preserves filmmaking in the UK, commissioned Baker Richards for a project to understand the impact of ticket prices on demand for films at BFI Southbank and to review the BFI membership offer.  For membership, the core aims were to both drive up membership numbers and drive down the number of members lapsing – and to do so without undercutting BFI's higher level membership and donor offers.
Existing Membership Offer
Benefits for BFI members included:
Priority booking and no booking fees for BFI Festivals and BFI Southbank;
Free tickets to members' only events;
£1.50 off BFI Southbank and Imax tickets;
15% off BFI Player and BFI Shop.
The Research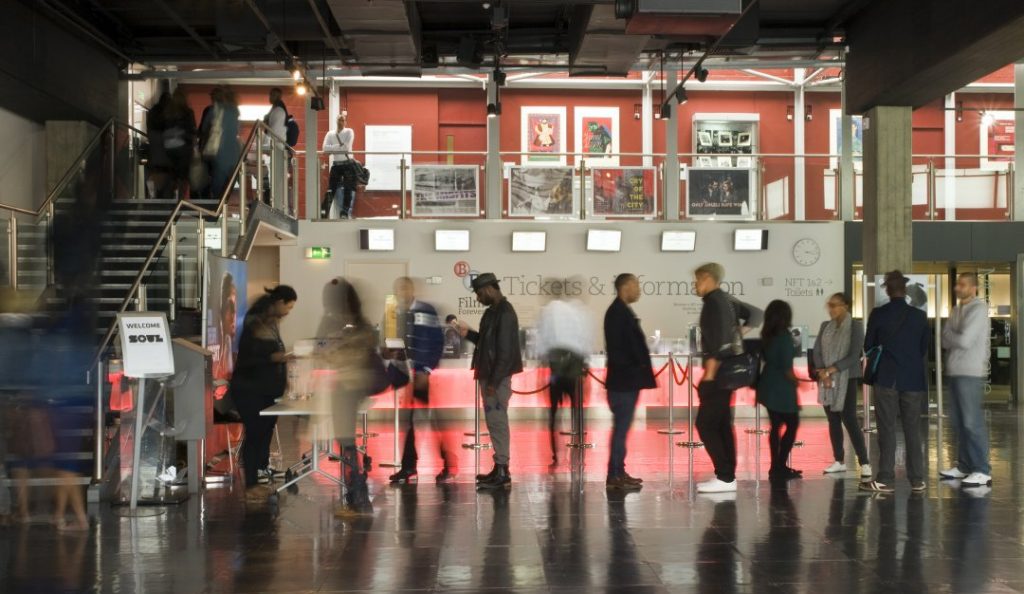 A specially designed conjoint analysis survey was sent to a combination of BFI members and non-members. The survey results were used to evaluate which of the current membership benefits were the most attractive and which additional offers might be of interest – for example, how much more of an incentive is it to receive 4 or 6 tickets on joining compared to 0 or 2?
Findings
The survey responses showed that most BFI members are price sensitive and interested in the transactional benefits of membership rather than philanthropy. Segmenting the responses resulted in 6 different types of potential member.
Above all else, members value their ticket discount, followed by the priority booking. Members would also value free access to BFI Player and being given free tickets on joining. But the ticket discount is valued so highly that removing the discount can't be compensated by offering even 6 free tickets on joining.
Modelling the new membership scenarios showed that differentiating the membership offer, by splitting out different benefits to create several membership levels, would result in the highest uptake and revenue.
For example, one modelled scenario is shown in the table below. By creating multiple membership levels at different prices (so you pay more for priority booking and the BFI player discount) membership uptake increases by 8%.
Results and BFI Changes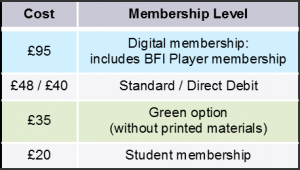 As a result of this project, BFI are going to introduce three different "entry level" memberships.  As free access to BFI Player was shown to be a key driver of sign-up it will be reserved for higher level memberships; meanwhile, price sensitive members could choose to switch to 'Green' membership (see table, left). The prices of the memberships are based on the research into price elasticity that Baker Richards did alongside the membership analysis.
Additionally, Members will now be rewarded with an additional £1 discount on priority tickets, given how strongly these are valued, and BFI are also introducing free tickets on joining BFI are planning to reduce the exclusive programme, as the research suggested this is not a strong driver of purchase, thereby cutting costs.
The findings of the conjoint analysis and modelling ensured that the BFI were able to make truly informed decisions about the future pricing and bundling of their membership offer:
"We were looking for ways to improve our membership and ticket offer from the point of view of both our existing and potential audiences.  Thanks to the analysis and invaluable advice from David and the team at Baker Richards, we are able to really understand the true value of what our customers are seeking and as a result of these insights have been able to confidently propose changes to both the membership and ticket structure."
Richard Shaw, Director of Communications, Marketing & Audiences, BFI