Sydney Dance Company is one of the world's leading contemporary dance companies with an ensemble of 17 dancers led by Artistic Director Rafael Bonachela. The Company is resident of the purpose-built studios at The Wharf in Sydney's Walsh Bay, minutes from the city's famed Sydney Harbour Bridge and Sydney Opera House.
"The work Baker Richards did with their Patron Preference Analysis was amazing – it gave us the evidence and confidence, based on what our audiences are willing to pay, to make bold changes to our pricing strategy. We have been huddled over our sales dashboards looking at ever healthier sales curves! The most impressive and impactful thing is that putting up our ticket prices saw significantly increased yield with no price resistance at all, and we actually sold tickets at a slightly faster rate than in pre-Covid seasons."

Lizzi Nicoll, Deputy Executive Director
In 2020, in the midst of the global COVID pandemic, Sydney Dance Company, who produce three main shows each year, were considering their options for their 2021 season. One of these options was a hybrid in-theatre with physical distancing and live-streaming program.
The question was what did their audiences want? Also how many of them would return in-person or would prefer to engage digitally or both? And importantly, how much would they be willing to pay for these experiences in these extraordinary times?
The Project
In August 2020, Sydney Dance Company commissioned Baker Richards to undertake Patron Preference Analysis. This analysis was perfectly suited to the uncertainty of the situation as it's designed to tell you how your customers currently feel about engaging with your artistic offer, forecasting customer demand and what audiences will be willing to pay.
To test the reaction to the proposed 2021 season, we surveyed Sydney Dance Company's audience, presenting them with illustrative examples of the planned 2021 season. This comprised 3 different types of program:
World Premiere of a full-length work featuring all 17 Company dancers
Repertoire Performance of an existing critically acclaimed work from the Company's established stable
Emerging Choreographers showcasing cutting edge short new works.
The Findings
75% of the Sydney Dance Company audience indicated they would consider attending one of the performances on offer for the proposed 2021 season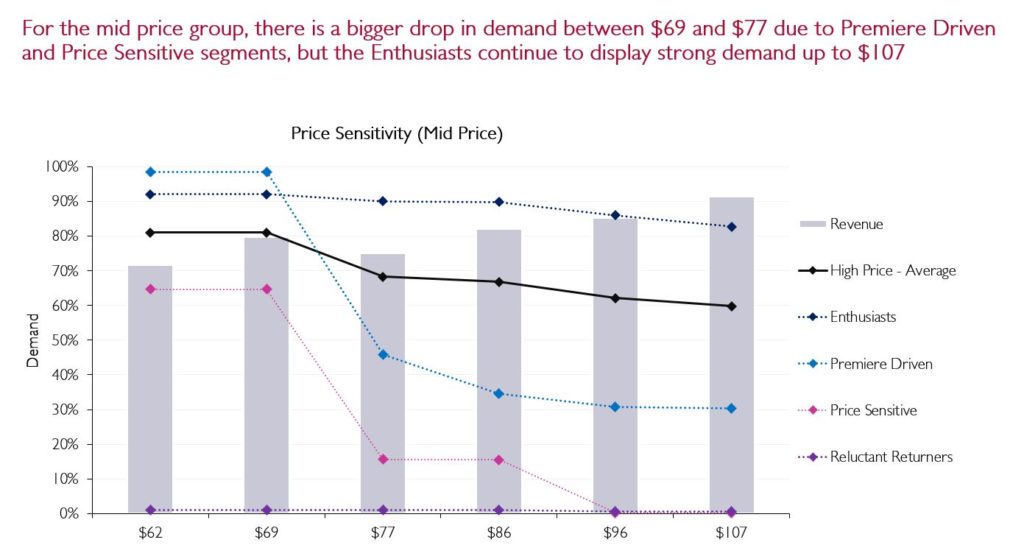 Price was the most important factor in the decision-making process, but there was strong demand all the way to $107 for a standard full-price ticket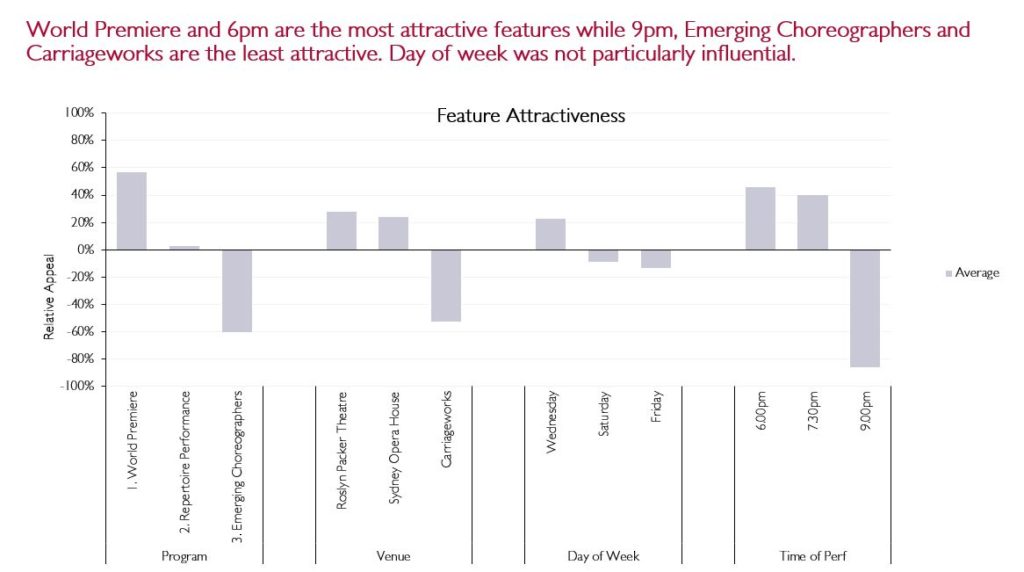 Program was also important with strong preference for World Premiere, which was just over 50% more attractive than Repertoire Performance, which in turn was about 60% more attractive than Emerging Choreographers
Venue also made a difference, with preference for Roslyn Packer Theatre, the Company's resident 896-seat theatre in Sydney, closely followed by the 544-seat Drama Theatre at Sydney Opera House, but about 80% less appeal for a smaller 270-seat space at Carriageworks, also regularly used by the Company.
Day of week was less significant, although somewhat surprisingly, there was a slight preference for Wednesday, which traditionally had always been priced below Fridays and Saturdays
Time of performance was important to audiences, with strong preference for 6pm or 7.30pm and strong aversion for 9pm, which was about 150% less attractive than 6pm
Around 63% of respondents were interested in digital tickets; the majority (nearly 80%) being interested in both in-person and online
Implications
Pushing the top price from $98 to $110 would maximise revenue for the most in-demand inventory, e.g. World Premiere performances on a Saturday night at 7.30pm
Crucially, given the temptation of organisations to indiscriminately discount when coming out of the pandemic, lowering prices elsewhere does not generate significant extra volume to make up for the loss in revenue, presenting the opportunity to increase the bottom price to $69
Strong demand for World Premiere justifies a premium price, especially for Saturday and Friday evenings
Repertoire Performance and Emerging Choreographers could be priced just below World Premiere, but there is no need to have a much lower price for Emerging Choreographers given lower prices do not generate additional demand and those who are interested are willing to pay
Wednesday doesn't need to be priced just below Friday and Saturday
9pm performances would be a hard sell so should be at a much lower price to generate demand
The strong appetite for digital tickets to supplement in-person attendance presents an opportunity to continue having a digital offer into the future
As a result, Sydney Dance Company was able to maximise revenue and optimise demand through variable pricing by program, venue, day of week and time of day.
Top Price
Program
Venue
Day
Time
$100+
World Premiere
Rosyln Packer
Sydney Opera House
Saturday
Friday
7.30pm
6.00pm
$90-$99
Repertoire Performance
Emerging Choreographers
Carriageworks
Wednesday
>$90
9.00pm
Results
Our work gave Sydney Dance Company the evidence and confidence to be bold with their pricing strategy, ensuring they were able to maximise all potential income from their ticket sales. This was especially important as capacity restrictions meant that for the first program of their 2021 season, a piece of new work entitled Impermanence, could only be performed in a 75% capacity house.
Despite the fact that this was the first program to be staged since the pandemic and the uncertainty about whether audiences would return in reality, Sydney Dance Company decided to adjust their top price to $110 for Friday and Saturday evenings and bottom price to $69, as well as making a $57 price available elsewhere. But by increasing standard prices, this also mean they were able to offer more generous discounts for younger people in line with their audience development objectives.
The first show ran for 12 performances across 2 weeks with strong demand throughout, quickly smashing initial budget and sales targets to sell 77% of the reduced 75% capacity and achieve 88% of potential financial capacity. Overall, the Company achieved a $16 increase in average ticket yield and no complaints. What's more – they found that they'd got the range of prices on offer spot on with each price selling at roughly the same rate, ensuring they always had capacity at each price available up until the day of the show
Physically Distanced Seating
How to make 75% capacity happen
Sydney Dance Company's, Head of CRM, Heath Wilder, explains his approach to achieving the 75% capacity permitted and maintain a 1-seat gap between each party.
"I knew that the only way to do this would be if the average number of tickets per order was 3. One solution would be to have seats in "pods" of 1, 2 and 3, but the maths means that you still have an average of about 66.7% and you lose seats when people don't fill a pod which means less income. So instead, we sold tickets on a general admission basis for each price zone in the house and encouraged customers who had booked in pairs to bring a friend to achieve the magic number 3. Once all orders were in, it was then a big game of Tetris, seating people in blocks in the optimal combination to achieve physical distancing and fill all available capacity."
Sydney Dance Company undertook Patron Preference Analysis, for real-world performances and digital streams.