Smart Segments allow you to focus your efforts on the constituents most likely to engage with your campaign.
Smart Segments Essentials
Essentials include a range of behavioural tags based on attendance, purchase characteristics, and donation characteristics.
With Smart Segments Essentials you can easily target constituents based on any of the following behaviours:
Top patrons (based on recency, frequency & monetary value combined)

Patrons are broken into deciles – from the top 10% to the bottom 10%, allowing for targeting at any point in the range

Price preference – patrons who usually book seats that cost more or less than the average
Average annual ticket value / value per booking
Average number of weeks in advance the patron books
Frequent or infrequent loyalists – regular attenders broken down by frequency
Frequent or high value donors – with their average donation values and frequencies
Smart Segments are meaningfully cohorted for your venue, giving you granular control over the level of tagging detail. They are updated dynamically at regular intervals, as new constituents join your CRM or as the behaviour of existing constituents changes.
Which Smart Segments are included?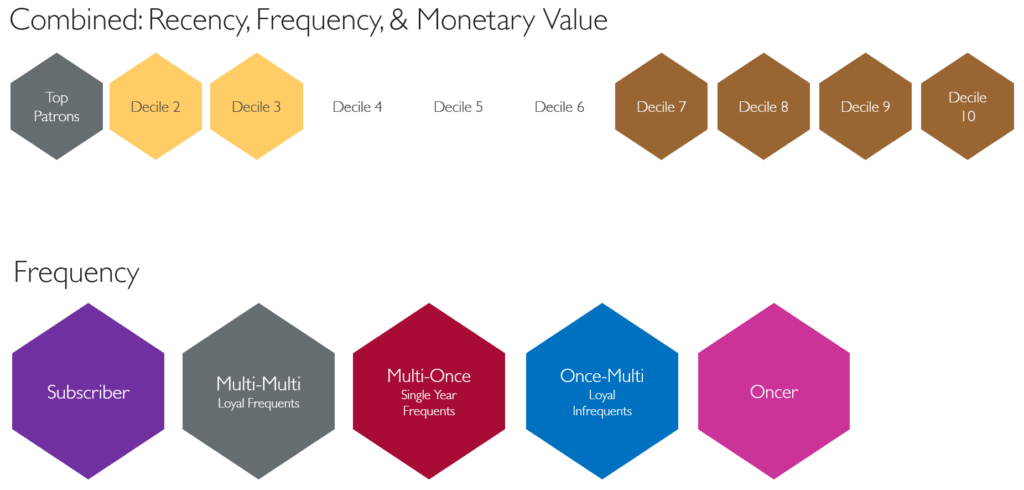 Smart Segments are available internationally and are billed in US Dollars
Custom Smart Segments
For a small additional fee, we can work with you to build custom segments.
Examples include:
Top donors and patrons who have changed behaviour and are at risk of lapsing
Drive time from venue
Artform crossover (requires artform coding)