Think that subscription is an outdated concept?  By understanding customer behaviour and applying the principles of behavioural economics, we doubled the number of subscribers at Malmö Stadsteater.
Subscription
Subscription or season ticket packages aim to maximize ticket sales by increasing frequency of attendance.  They encourage customers to buy a package of tickets and thereby attend more events than they otherwise would.
One of the key, yet often ignored, benefits of subscription is that an organisation can introduce a wider range of work into their programme, including more challenging work, knowing that they can rely on an audience of subscribers.  If customers sign up to a full package of plays or concerts, you can include works they might be less familiar with, which they might not otherwise have attended, because it is part of a total package.  Encouraging sign-up to a full package of plays or concerts creates a base of sales across all events.  In addition, marketing cost-effectiveness is increased.  It is often said that gaining a new customer is five times more expensive than keeping an existing one. So, if you can sell an existing customer tickets to ten performances, it is fifty times more cost-effective than selling the same number of tickets to new customers.
With all these benefits, it is perhaps surprising that subscription has not achieved the same popularity in the UK as in North America.  Subscriptions did see a rise in popularity during the early 1980s following the success of Danny Newman's book Subscribe Now.  Since then, though, interest has waned.  Many subscription programmes declined as a result of increasing competition for the leisure pound and an increase in the number of customers looking for greater flexibility.  These changes led organisations to conclude that subscription was dead, rather than adjusting packages in response to customer needs.
It may be that it is the word "subscription" that has been part of the problem. "Season ticket", as used in sport, is becoming more popular.  A number of theatres use this term, including the Royal Exchange Theatre in Manchester, the Mercury Theatre in Colchester and the Royal Lyceum Theatre in Edinburgh.  The Lyric Stage Company of Boston saw an upturn in subscribers when, alongside other changes, they rebranded their subscription as 'season tickets.'
However, in the UK, frequency bundles are still usually an after-thought – a way of packaging-up single tickets rather than taking their place at the forefront of planning.
Malmö Stadsteater
Baker Richards worked with Malmö Stadsteater, a leading producing theatre in the south of Sweden.  Before we began working together, subscription packages required a minimum purchase of 5 productions out of the nine or more on offer.  There was no incentive to buy extra shows and so most subscribers opted to buy only 5 or 6 productions. There were also people making repeat bookings who were choosing not to subscribe suggesting there were opportunities to grow both the number of subscribers and ticket sales.
Applying the principles of behavioural economics, we introduced a new subscription structure.  A new lower level "Bronze" package meant that you could start subscribing with a minimum purchase of only 3 productions and save 20%.  If you opted for 5-6 productions, you would save 35% with a "Silver" package – so there was still a good incentive to trade up from the "Bronze" package.  A new "Gold" package offered savings of 50%, but only if you committed to seeing all of the theatre's productions.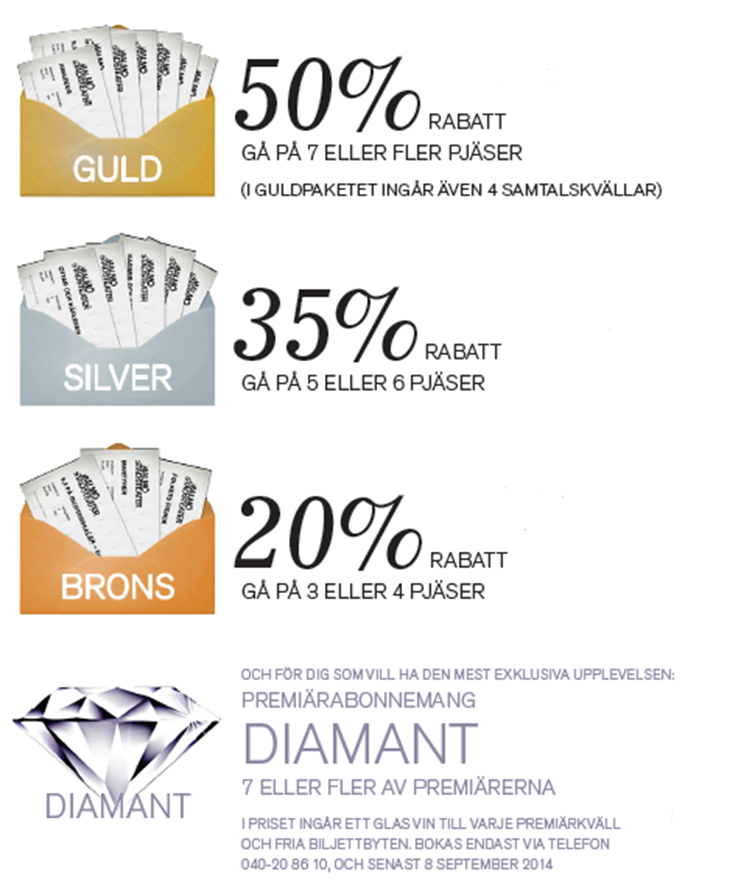 As a result, the number of subscribers and subscriptions nearly doubled but, more importantly, 60% of subscribers were buying the new Gold package and so were creating a base of ticket sales for all productions.  In terms of the overall impact:
Increased subscription sales and increased frequency delivered a 9% increase in total ticket sales.
This, along with a host of other changes including the introduction of differentiated pricing, contributed to a 40% increase in gross box office income.