Predicting what's going to happen in the future is difficult but forecasting is an essential component of planning. We built a crystal ball for the Royal Academy of Arts.
forecast
ˈfɔːkɑːst
Verb
predict or estimate (a future event or trend).
"rain is forecast for Scotland"
Predicting what's going to happen in the future is difficult.  We all know that just because something behaved in one way in the past doesn't necessarily mean it's going to behave that way in the future. And when you throw in a bunch of other intervening factors then what chance have you got?  This is especially true for the arts where demand is driven not by necessity as is the case with something like air travel, but by wants and desires.  And unlike air travel (which is usually seen as a means to an end), attending an arts event is an end itself – it is the experience that is important.
So what's the point in trying to forecast demand for forthcoming events?  Well, there's the need to provide annual targets, meet income expectations, direct marketing spend appropriately and communicate with the right audiences (see Behavioural Segmentation).  Once you have a forecast in place this can be used to inform your tactics for certain events, identify opportunities for revenue management and plan a series of tactics based on expected sales at key points throughout the sales cycle (see Pricing Playbook).
Where should you start?  Historical data is important, but to make any sense of it you're going to need to have some form of coding in place.  And, again unlike air travel, there is a much wider range of variables to consider for an arts event. The key is being able to work out which variables are significant and making sure that you don't end up with historical comparators based on small numbers of events, e.g. Saturday night shows in March of Alan Ayckbourn plays. Getting the balance right between the quantity of data required to be statistically robust while maintaining a meaningful level of granularity (so you are not using comparators that are too dissimilar) is crucial.
Top level factors which apply equally across all events is a good place to start, e.g. day of week/time of day; genre/artform; venue etc.  Then it's about the degree of nuance you can usefully achieve, which is where event coding plays an important role.  For some organisations, a scoring system (see Repertoire Scoring) can be introduced to group events together to create comparators; for other organisations, the approach might be selecting several key variables related to specific performances, e.g. star cast, historical period, production style etc.  Whatever approach you choose, the key to making it work effectively is consistency.
Forecasting for the Royal Academy of Arts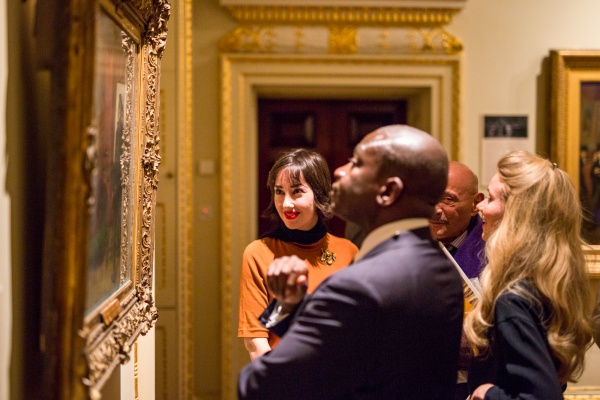 In 2016, the Royal Academy of Arts in London commissioned us to build a forecasting model to help their team identify high and low demand timeslots to make informed decisions about future offers and tailored promotions.
The model is based on historical attendance patterns to create comparator demand curves for future exhibitions.  The key variables that needed to be taken into consideration when analysing attendance patterns included the following:
Venue: Main Gallery; Sackler
Key visitor groups: Friends; Paid; Free
Exhibition type: Blockbuster; Summer Exhibition; Word of Mouth; Special Interest
The model used data stretching back to 2005 to provide the widest range of comparators.  When selecting comparators, the Royal Academy team can filter on a range of criteria, which generates an average daily sales measure by visitor group by each exhibition by day of week. For example, based on comparators they may find morning slots early in the run less popular, whereas Friends attendance tends to be frontloaded.  This data is then used to plot daily sales targets across future exhibitions which in turn can be translated into total sales targets for the entire exhibition.
Using this model at the start of their planning cycle allows the RA to add a second level of depth to their forecast to not only improve the overall forecast but also to inform the different teams – Marketing, Front of House, Membership, Finance, Visitor Experience – about visitor flow, about when the Friends room may be busy, about which slots are likely to be less popular (so potential to be promoted), and whether first few days' results are indicative of total run performance. Importantly, further down the line when the exhibition is open it allows more accurate reporting to the wider RA staff of the performance of an exhibition against the original forecast – rather than always being 'ahead' at the beginning and waiting hopefully for the surge they expect will come in the final weeks.
Working with Baker Richards is always a pleasure. They effortlessly make sense of often complex (and in the arts imperfect) data sets to enable teams to have data at their fingertips. Unusually for a strong tech-led company, they listened carefully to the brief, were open to input and had a keen eye for detail and data accuracy. They have managed to translate a client idea into a compelling vision, which is now a reality that is well placed to deliver on the business objective. We are very excited to unleash the power of this tool and integrate it into our already strong forecasting system. Thank you for making me look good.
Claire Clutterbuck, Head of Insight RA